38
sagittarius
usa
est
genderfluid
they/he/she
pansexual
demiromantic
INFP-T
Native English-Speaker
author2host [at] gmail.com
Hello, I'm Key! Or at least that's what I go by online. I'm a big ol' geek with too much time on my hands who mostly just wants to make people smile. I draw a
little, game a little, and I love building websites, though I never got very good at that either, lol.
Sometimes I make videos for my YouTube channels—mostly fan stuff on the primary channel, and the secondary channel is my channel for my invertebrate hobby—I raise sea monkeys (brine shrimp) and isopods and hopefully more in the future! I also dabble in terrarium-building, scrapbook, and collect a bunch of stuff (plushies, hedgehogs, rainbows, little vials with keepsakes inside, stationary...).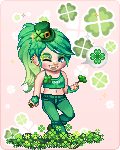 gaia online
To the left, my current avatar.
To the right, a timelapse of all my avatars since I joined in 2006!
favorites
color:
teal/turquoise
foods:
avocados, cheez-its, chili dogs, chocolate, mashed potatoes, spaghettios, tomatoes
drinks:
green tea
animals:
brine shrimp, cats, hedgehogs, isopods, millipedes, rabbits, thylacines, turtles
books:
"Under Alien Stars" by Pamela F. Service
"The Minotaur Takes a Cigarette Break" by
Steven Sherill
The "Poirot" mysteries by Agatha Christie
"The Cat Who..." series by Lilian Jackson
Braun
movies:
Deadpool, Despicable Me, Kubo and the Two Strings, Megamind, Popeye, Teenage Mutant Ninja Turtles (1990)
tv shows:
Invader Zim, Mighty Ducks: The Animated Series, Star Trek, The Orville, The Umbrella Academy
youtube:
Angry Video Game Nerd, CaptainSparklez, Game Grumps, Glove & Boots, Jacksepticeye, Markiplier, Nostalgia Critic, Thomas Sanders
anime:
.hack//SIGN, Cowboy Bebop, Seraph of the End, Space Dandy, The Promised Neverland
music:
Billie Eilish, JT Machinima, The Living Tombstone, NateWantsToBattle, Ninja Sex Party, Peter Gabriel, Starbomb, TryHardNinja
games:
Don't Starve Together, Five Nights at Freddy's, Minecraft, Oxygen Not Included, Sonic the Hedgehog, The Sims 4, Undertale/Deltarune
other:
air plants, blogging, developing original characters, drawing, invertebrates, isopods, mosses, photography, pixel art, sea monkeys, succulents, role-play gaming, terrariums, twitch, video editing, web design, writing, youtube