about me
36
sagittarius
usa
est
genderfluid
they/he/she
pansexual
demiromantic
INFP-T
Native English-Speaker
author2host [at] gmail.com
Hello, I'm Key! Or at least that's what I go by online. I'm a big ol' dork with too much time on my hands who mostly just wants to make people smile. I draw a little, game a little, and I love building websites,
though I never got very good at that either, lol.
Sometimes I make videos for my YouTube channels--mostly fan stuff on the primary channel, and the secondary channel is my channel for my invertebrate hobby--I raise sea monkeys (brine shrimp) and isopods and hopefully more in the future! I also dabble in terrarium-building, scrapbook, and collect a bunch of stuff (plushies, hedgehogs, rainbows, little vials with keepsakes inside, stationary...).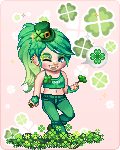 gaia online
To the left, my current avatar.
To the right, a timelapse of all my avatars since I joined in 2006!
favorites
color:
teal/turquoise
foods:
avocados, cheez-its, chili dogs, chocolate, mashed potatoes, spaghettios, tomatoes
drinks:
green tea, dr. pepper
animals:
brine shrimp, cats, hedgehogs, isopods, millipedes, rabbits, thylacines, turtles
books:
"Under Alien Stars" by Pamela F. Service
"The Minotaur Takes a Cigarette Break" by
Steven Sherill
The "Poirot" mysteries by Agatha Christie
"The Cat Who..." series by Lilian Jackson
Braun
movies:
Deadpool, Despicable Me, Kubo and the Two Strings, Megamind, Popeye, Teenage Mutant Ninja Turtles (1990)
tv shows:
Invader Zim, Mighty Ducks: The Animated Series, Star Trek, The Orville, The Umbrella Academy
youtube:
Angry Video Game Nerd, CaptainSparklez, Game Grumps, Glove & Boots, Jacksepticeye, Markiplier, Nostalgia Critic, Thomas Sanders
anime:
.hack//SIGN, Cowboy Bebop, Seraph of the End, Space Dandy, The Promised Neverland
music:
Billie Eilish, JT Machinima, The Living Tombstone, NateWantsToBattle, Ninja Sex Party, Peter Gabriel, Starbomb, TryHardNinja
games:
Don't Starve Together, Five Nights at Freddy's, Minecraft, Oxygen Not Included, Sonic the Hedgehog, The Sims 4, Undertale/Deltarune
other:
air plants, blogging, developing original characters, drawing, invertebrates, isopods, mosses, photography, pixel art, sea monkeys, succulents, role-play gaming, terrariums, twitch, video editing, web design, writing, youtube
faves playlist
Warning: VERY LOUD! Also, some songs contain explicit content.
i'm short
I am 160 centimeters tall.
This makes me taller than 1.9% of men and 29% of women.
|
|
|
|
|
|
|
|
|
|
|
|
|
|
|
|
|
|
|
|
|
|
|
|
|
|
|
|
|
|
|
|
|
|
|
|
|
|
|
|
|
|
|
|
|
|
|
|
|
spacefem.com/quizzes/tall/
states i've visited